The second consortium meeting took place in Klaipeda, Lithuania, on 12-13 May 2015 to discuss the results of the project's first activity: needs analysis and to plan future actions.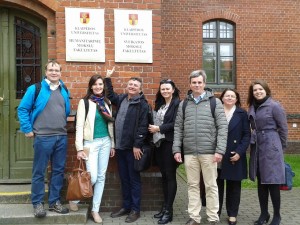 Successful project implementation requires knowledge of the current language needs in the healthcare sector. In order to prepare for the development of learning materials, a detailed survey was carried out in the first months of the project amongst more than 250 students and healthcare professionals and about 70 English teachers. Our partner Slovak Medical University created a detailed overall report and a presentation of the results, which are available now on the project website. Here you will find interesting results about preferences for learning content and favourite procedures for modern language learning in the medical sector. To have a look, please click here for a summary and here to access the full report
In the next phase we are dealing with the design and development of the learning materials. Thanks to our Polish and German partners we have a solid methodological and didactic ground to build reliable learning resources. We are also proud to announce that we have obtained official permission to use the ICNP® terminology by the International Council of Nursing to help ensure that the learning materials are more valid, relevant and practical.
We have made good progress and we are now moving on to the next aims and objectives. We will keep you informed so come back soon!