Piloting is underway
The 14 healthcare and 6 intercultural modules are being tested by users with collaborating organisations. At present, the HELP learning platform has more than 250 active learners in the Higher Education sector from all over Europe. Apart from the partner countries, we have participants from universities and companies in Croatia, Belgium, Bulgaria, Finland, Hungary and the UK, who are testing the form and the content of the platform. We are encouraging anyone interested in the piloting to contact any consortium partner.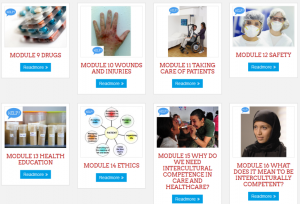 Feedback
Piloting is voluntary and modules are available for free, but in return, we are requesting quality feedback. The purpose is to gather relevant feedback from real users and to learn from their experience. The feedback from piloting participants is collected with a set of quick and easy on-line questionnaires and will be used to improve the materials, to debug the on-line platform and to fine-tune the modules. The piloting phase ends on 31 January 2017. At the same time, the feedback will be analysed and final adaptations done in February to prepare the final printable and platform versions.
M
obile app
The modules have also been transformed into a mobile application for modern portable devices running Android OS. The app can be downloaded directly from the platform, since it is not available in GooglePlay as yet. After collecting the feedback and implementing changes and suggestions, it will be available to the general public. If you wish to try it out, feel free to contact any consortium partner. We really appreciate your feedback!