Successful piloting – participation and feedback exceeded expectations 
During the last six months, the HELP platform, printed module versions and the mobile app have been tested by users from several European countries. We had almost 500 students, self-learners and teachers from Higher Education who tested the new learning programme. Teachers' and students' responses was generally positive and show that the materials fill a gap in educational resources. Testers liked that the material combines English learning with professional medical content and intercultural topics to prepare for the challenges in the European workplace. The high professional quality and flexible access to the resources was appreciated as well as guidance for self-learners and foreign language learning tips. The piloting report was compiled by our Irish partner will be available here.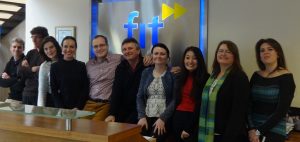 Although the pilot testing phase of HELP has now finished, we would still appreciate your feedback! If you have used our products and wish to tell us your thoughts on them, please contact Emma Beatty at emmabeatty@fit.ie. Thank you, we are grateful for your time and comments.
Fine-tuning of the HELP learning programme
The learning materials will now undergo final adjustments, reflecting comments and suggestions from the piloting feedback. Teachers and students will have now free access to the platform and will be able to print all modules from a pdf or download the audio and video files. The mobile app will soon be available for download for Android devices from Google Play store in order to achieve the most flexible learning approach and access in Higher Education.
Join us for the final conference
The consortium partners met in Dublin for the last time before the final conference. Apart from analysing the piloting results and planning the fine-tuning phase, we discussed the structure of the conference, which will be held in Olomouc on 15 June 2017. Preliminary programme and will be announced on our website in March and registration will open in April. Curious? You are cordially invited to celebrate the launch of our products!